People always ask me, "Why Bananas?"
My psychiatrist says it's a combination of a deprived childhood and eating too many bananas. As a child growing up in Richmond, Va., my mother worked in a banana warehouse. They didn't pay her much, but they let her bring home all the bananas she wanted. So we ate them...many different ways...many, many ways. Banana fritters, banana milkshakes, banana bread, fried bananas, baked bananas. Oh, she could do a cookbook. One of my favorites is grilled bananas on a hot dog bun. If you put enough ketchup and mustard on, you can't tell the difference.

So, back to the photos. When I was taking photography classes in college we had an assignment to show four points of view. I thought I'd use food as a subject, so when I got home, well, what do you think? There you have it. I guess you could say I got a little carried away. This eventually led me to become the youngest and only photographer to exhibit in the Louvre in Paris, way back in the early eighties.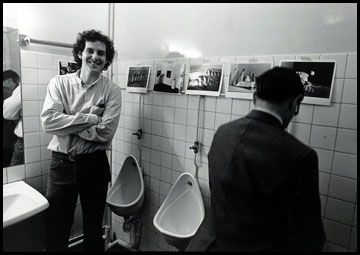 Nowadays, I guess you could say that I've ripened and mellowed (yellowed?) and spend as much time as possible goofing around with my wife and kids. My kids are now my favorite photo subject, but believe me, bananas are a lot more cooperative.

Contact Me

Questions? Comments? Maybe you have a photo idea with appeal?
Send me an email at bananaphoto@comcast.net and it will be fruitful.
Or perhaps you would rather ring ring ring ring me on my Bananaphone?
In that case, my daytime number is 804-837-1683.